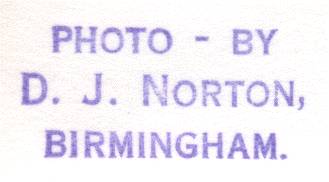 Buses and Trams In Colour

It was a real surprise to find that we had boxes of full colour slides as well as all the prints. There aren't a huge amount of bus and tram photo's, but there are a few of interest. Sadly, there are no pictures of Birmingham trams in their primrose and cobalt blue livery as my father didn't start taking slides until 1955. By that time the network had been shut down.
Old colour pictures really make an impact on me. With black and white it's easy differentiate between the past and the present. A fifty year old colour picture starts to blur the distinction...
Bus Terminus Haunch Lane - 22/5/55

The bus terminus at Haunch Lane. Yardley Wood Road disappears into the distance while an 18A, complete with an advert for Old Charlie Rum, sits at the stop.

I happened to be driving past this site on my way to a friends 40th birthday BBQ and I couldn't resist stopping to capture this shot of the scene today.

Bus HOV 928 - 27/5/56

HOV 928 at Cotteridge. Numbered 45, the sign on the front says, "West Heath Alvechurch Road", although it is facing the into city direction. Thanks to Mike for pointing out that it was Birmingham City Transport practice to show the outer terminus destination all the time. A chap downstairs in having a nap in the sunshine!

Wilts & Dorset Bus 518 K.N. - 7/8/55

Two Wilts & Dorset buses parked up at Kings Norton railway station. The registration number is HWV 946.

The sign in the front window of bus 518 says, "Birmingham", but who hired them remains a mystery. However, an anonymous emailer said this, "The Wilts and Dorsets used to bring troops to Bham (I think on a friday night) from Salisbury Plain, returning Sunday evening. They parked up on Saturday.........usually by Bingley Hall in Broad Street.....I bet these are the same.". Since the photo was taken on a Sunday he could well be correct!

To back this up, Nigel got in touch to say, "Those are the same buses that used to bring me home for the weekend when I was in the RAF at Middle Wallop". Seems pretty conclusive to me...

981 UHW at Ledbury Station - Date unknown

This picture was among the last my father took so he never catalogued it in his normal, thorough way. All I can say is that is was taken somewhere between August 1964 and August 1965. Although the station building has now gone the ornate wall survives as this picture from April 2007 shows.

An otherwise idyllic rural scene is spoilt by the incongrous intrusion of a very 1960's style concrete lamppost!

The bus is a Bristol and there is lots of useful information about these on the Classic Bristol Buses website.

Trolleybus Nr Cardiff Castle - 10/6/64

When I found this picture of a trolleybus in Cardiff, I assumed my father was capturing the last days of a doomed system as he had done with the trams of Birmingham. I was amazed to discover that trolleybuses continued operating in Cardiff until January 1970! This site has some more photo's.

My modern view shows little has changed close to the castle. I'm not sure if it was my imagination but the lampposts in High Street seemed to pay homage to the days of the trolleybus as this picture shows. Can anyone confirm if this is indeed the case?

Trolleybus Nr Cardiff (Gen) Stn - 10/6/64

Trolleybus DUH 725 photographed close to Cardiff General Station. Note the Royal Hotel behind.

When taking my modern view in March 2012, I was sad to find all the nice old buildings to the left of the picture had been lost.

Tram 202 Fleetwood - 1/4/56

An Easter break in Blackpool provided my father with the opportunity to capture a few shots of the town's iconic tram system. I doubt he would have imagined that it would still be in operation over 50 years later!

Note the North Euston Hotel in the background.

If anyone can provide some interesting notes about these trams, I'd be very grateful.

Tram 244 Talbot Sq - 3/4/56

Tram 317 Talbot Sq - 3/4/56

---