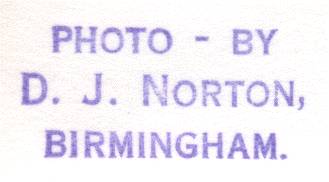 Alvechurch Station

Alvechurch lies on the single track Midland line north of
Redditch
and south of
Barnt Green
. It is still in use today as part of the Cross City Line. Some history of the station along with some modern views can be found on
Rail Around Birmingham
.
Alvechurch Stn - 20/4/54

Two nice views to illustrate the station site well. In the upper shot we are looking south towards Redditch. All the station buildings and the short stretch of sidings are clear to see. This first picture was taken from the road bridge seen in the lower shot.

The lower picture is looking north and taken close to the Station Master's house. Just beyond is the booking hall. Note the short gas lamposts - I presume they were short so no ladder was needed to light them. My thanks to Paul for providing the modern view of the station.

The two station buildings came onto the market in late 1990 and my brother was interested. I took this picture in February 1991 that shows the state they were in at the time. My brother thought better of it after visiting the site!

44601 nr Alvechurch Stn - 20/4/54

Class 4F 0-6-0 'Fowler' 44601 on goods duty and heading towards Barnt Green. This was one of the last Fowler's to be built and remained in service right upto November 1965

---